Although some believe it to be Chicago, or even New York, New Orleans is the birthplace of jazz and believe it or not jazz music was created by simply experimenting with musical components from other styles of music, mainly ragtime and blues. This occurred in the late 1890s and it is said that the first musician was Charles "Buddy" Bolden. Not too much is known about Buddy, but he was a natural performer and spent the last quarter century of his life in an insane asylum for schizophrenia.
Jazz, and the dancing that comes along with it, became extremely important to people of all walks of life in New Orleans. Music has a way to help people find a common ground and you could find everyone grooving to the sweet jazzy tunes in the early 1900s. One thing that people love about jazz is the fact that it can keep evolving. Music from Charles "Buddy" Bolden, Joe "King" Oliver, and Louis "Satchmo" Armstrong sounds a bit different that today's hot jazz artists, like Michael White and Kermit Ruffins, but it's still all jazz and jazz is still very much alive, especially in New Orleans.
If you're planning a vacation to New Orleans and are looking for the best New Orleans jazz clubs this is the most complete and exhaustive list we could put together with full explanations on what to expect.
The table of contents is below. You'll be able to find the top 11 best jazz clubs for which jazz style was New Orleans famous for. We've included the name of the venue as well as the address and phone number for your convenience.
Table Of Contents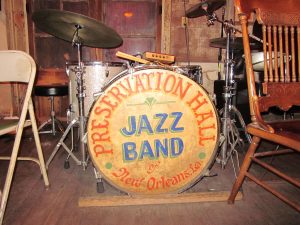 Preservation Hall
726 St. Peter New Orleans, LA 70116
(504) 522-2841
If you're looking for a good starter jazz club Preservation Hall is a great place to begin. They play the best traditional jazz music you can find in New Orleans. This venue offers shows nightly and does get packed quickly, so you can either opt to wait in line (and hope they have a seat for you) or you can call and make reservations. This establishment is alcohol-free, so it's a great spot if you're traveling with kids.
Palm Court Jazz Café
1204 Decatur St. New Orleans, LA 70116
(504) 525-0200
If you want to visit a low-key and less crowded jazz club and enjoy a quiet atmosphere with amazing creole dishes Palm Court Jazz Café is the best place to be. It's conveniently located in the French Quarter with a laid-back feel and great piano jazz. This is a great spot, even if you're not a big jazz fan. It's not open every day, usually Wednesday through Saturday from 7PM to 11PM, but you will want to call and make sure they are open for when you're planning to visit.
Irvin Mayfield's Jazz Playhouse
300 Bourbon St. New Orleans, LA 70130
(504) 533-2299
It's not every day that you can watch a Grammy-winning trumpeter perform live, but when he's in town, Irvin Mayfield is playing at his jazz playhouse. When he's not, rest assured you will not be disappointed with his stand-in performers, the Tuxedo Hall Jazz Band. At the Irvin Mayfield's Jazz Playhouse, located inside the Royal Sonesta Hotel, you will be able to enjoy a true jazz experience complete with tasty cocktails.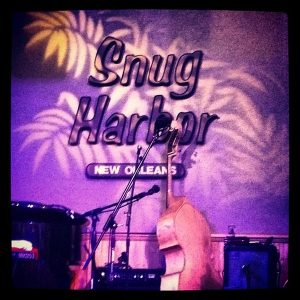 Snug Harbor Jazz Bistro
626 Frenchmen St. New Orleans, LA 70116
(504) 949-0213
If you want to ensure you see the finest jazz talent in New Orleans your best bet would be Snug Harbor Jazz Bistro. With musical talents such as Allen Toussaint, the Ellis Marsalis Quintet, the Charmaine Neville Band, and many others, you can really enjoy an intimate evening out with your spouse. With many options to choose from for food and drinks, you can really enjoy the experience here. You can check out their calendar of events to find out who will be scheduled to perform during your time in New Orleans and purchase tickets to snag a seat for the show.
Fritzel's European Jazz Club
733 Bourbon St. New Orleans, LA 70116
(504) 586-4800
Take hanging out with friends in New Orleans to another level. Fritzel's European Jazz Club, the oldest operating jazz club in New Orleans, fills up quickly, and it's no surprise why. Open daily from Noon to 2AM, they're known to offer the best jazz music in the NOLA area, strong drinks, and a boisterous, yet cozy, atmosphere to keep any 20 or 30-something year old having a great time all night long. Best of all, there's no cover charge and only a 1 drink minimum, so make sure to make a stop here during your next vacation to New Orleans.
The Maison Bourbon Jazz Club
641 Bourbon St. New Orleans, LA 70112
(504) 522-8818
This bar/jazz club is dedicated to keeping and preserving America's classical music, AKA Jazz. Many famous and notable musicians have had the opportunity to perform here, including Harry Connick, Jr. This could easily become your favorite, must-visit jazz club every time you travel to the Big Easy. You won't find a cover charge here, just friendly servers and great music. One tip, though, make sure to bring some cash as the band works for tips, and make sure to be generous if you really enjoy the show and help keep the show alive.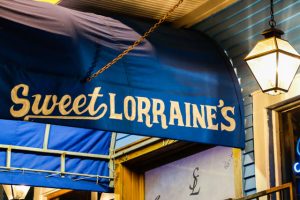 Sweet Lorraine's Jazz Club
1931 St. Claude Ave. New Orleans, LA 70116
(504) 945-9654
This recently remodeled jazz club is one of the local's favorite hangouts. At Sweet Lorraine's you'll find friendly and attentive servers, great drinks, contemporary jazz, and huge portions. The menu features traditional Creole dishes that visitors flock to New Orleans for. One thing you won't find is a huge crowd of tourists. As mentioned before, this is where the locals go, and one thing that may surprise the visitors that do happen to find this hot spot is just how affordable the drinks and food are, all with amazing entertainment. This is one of the best picks for a great couple's night out in New Orleans.
21st Amendment Bar at La Louisiane
725 Iberville St. New Orleans, LA 70130
(504) 378-7330
Located inside the Hotel Mazarin, the 21st Amendment Bar at La Louisiane will surprise you, to say the least. Don't let its unimposing and quaint looks pass it up. You will hear some of the best jazz music in all of New Orleans, but you better get their early because seats are limited. Make sure that you check out the décor during your visit, too. Featuring photos and items relating to prohibition and the history of it, you will also see some mobster photos, too, as this place is known to have been owned and frequented by some of the notorious and well-known gangsters, including Carlos Marcello and Diamond Jim Moran.
Davenport Lounge New Orleans
921 Canal St. New Orleans, LA 70112
(504) 670-2828
Located inside the Ritz-Carlton, jazz fans from all over the world come here in hopes of being able to see a live performance by the well-known jazz trumpeter, Jeremy Davenport. Featuring just about any drink you can imagine, and known to be heavy handed with the pours, the bar is also a great highlight to mention. If you want to see live music you will have to do your research and find out the schedule for the live performances. The seating and dining areas are small, so it's recommended that you make reservations before arriving.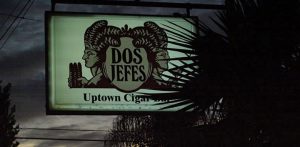 Dos Jefes Uptown Cigar Bar
5535 Tchoupitoulas St. New Orleans, LA 70115
(504) 891-8500
This New Orleans jazz bar offers nightly live entertainment usually starting somewhere between 9 and 10 PM. If you're looking for a dive-bar experience with a great and diverse jazz lineup, you won't be disappointed by Dos Jefes. This famous jazz club in New Orleans doubles as a cigar bar and specializes in dishing out great drinks, however it does not serve food, so it is recommended that you eat beforehand, or if not, you may be able to enjoy the food truck that posts up out front almost every night. Here you can kick back, light up a cigar, and enjoy the smooth jazz notes that are floating through the air.
Bacchanal New Orleans
600 Poland Ave. New Orleans, LA 70117
(504) 948-9111
This is not just a New Orleans jazz club, but an entire experience. Here at Bacchanal they combine food, wine, and music to create a memorable event that'll make you want to come back again and again. They have a No Kids Allowed policy, so this is the perfect place for couples to enjoy a glass of vino and some amazing jazz music out in the courtyard, usually string jazz and bebop. Since this is not located in the heart of New Orleans not many tourists visit here, but still manages to get packed quickly by the locals, so you may want to consider making reservations beforehand.
Daytime Jazz Brunch Restaurants And Clubs
For most of these New Orleans jazz restaurants, bars, and clubs we assume that if you're going out to a jazz club it is usually a nighttime adventure you're looking for. However sometimes we like to lounge during the day and enjoy some jazz and good food. Therefore we wanted to let you know that there are a few places that offer jazz brunch in the area. You get to enjoy brunch with a specialized menu for the time of day and get to hear the great genre of music that has made the Big Easy famous.
But some locations only offer this jazz brunch on weekends or worse, some only do it on Sundays. On top of that, some restaurants and bars that offer jazz brunch even have mandatory dress codes that require that you dress up in business casual attire that requires a collared shirt for men and will not allow you to wear t-shirts, shorts, or flip-flops. This is pretty much unacceptable for any leisure trip. Who wants to be dressing up in business attire on their vacation?
Fortunately we found out that Court Of Two Sisters offers jazz brunch Daily and has no strict dress code so we would have to say they have the best jazz brunch New Orleans has to offer. We would also add that they offer a great brunch menu that is on par or better than the other jazz brunch offerings in the New Orleans area.
New Orleans Jazz And Heritage Festival
There's definitely no shortage of amazing New Orleans Jazz Clubs here and if you're looking for a real jazzy treat you may even want to visit during one of the biggest and best jazz festivals, the New Orleans Jazz and Heritage Festival, also referred to as New Orleans Jazz Fest or just Jazz Fest.
The New Orleans Jazz Festival generally takes place around the end of April and lasts for just over a week. Many live performances are scheduled during the festival and not just jazz, but all types. You will also be able to enjoy great Cajun dishes, usually including beignets, poboys, jambalaya, and more. Be sure to keep yourself hydrated as the event is all outdoors and the sun can be strong during this time of year.
If you plan to attend the New Orleans Jazz Fest, just make sure to be prepared for large crowds, great food, and mesmerizing entertainment. Make sure to check out their calendar of events so you can plan everything ahead of time. It'll surely be a time to remember.