A lot of people think that if you want to have a good time in New Orleans, it's mandatory to stay in the French Quarter when vacationing in Louisiana. This is simply not true. The Garden District is where it's really at.
While the French Quarter is home to many of the well-known bars and restaurants it can tend to get overly loud and extremely crowded. If you're looking for an unforgettable trip to New Orleans without all the inebriated 20-somethings getting in the way, definitely opt for the Garden District.
The Garden District is only about 2 to 3 miles west of the French Quarter, so you're still plenty close enough to enjoy a trip to that area and see all the great attractions and performances they offer there, if it's on your to-do list for your visit to New Orleans. If you decide to stay in the Garden District, the first thing we definitely recommend that you do is invest in a Jazzy Pass, which will give you access to enjoy the all-day streetcar service instead of paying per entry.
It's only a few dollars and it will save you quite a bit of walking and will be a cool experience in itself and a great way to kick off your vacation. You may opt to do a bit of walking, but at some point you'll see that you'll want to take a break and you can enjoy the ride. Not to mention that it may be quicker to reach a certain destination, in some cases.
The number one top thing to do in the Garden District of New Orleans would be a historic tour. This area is full of huge mansions and plenty of intriguing history. You can choose to walk around and explore on your own, but the best experience would be to indulge in a guided tour. This will allow you to not only see the best of the best, but also get some interesting back stories on many of the old buildings and structures. One the best parts about taking a guided tour is that your guide is usually a local and they will know plenty of inside information that'll keep you entertained for the whole duration of the tour.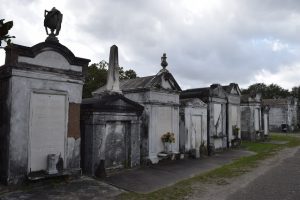 You can also take a stroll through one or more of the many cemeteries in the area. Many people may not know, but the grave plots in New Orleans actually above ground due to the fact that New Orleans is well below sea level and is in a constant threat of flooding. This means that the tombs are fully visible and very ornate.
Many of the tombs are home to multiple corpses, even up to 40 of them. Some may find this activity a bit crude, but it is just another part of what makes New Orleans what it is. It's just normal there to be either cremated or buried in a tomb that is above ground and safe away from water. While most of the cemeteries are well-kept, we do recommend a visit to the Lafayette Cemetery, which is far from it. It's actually the setting of a couple of blockbusters including Interview With The Vampire and Double Jeopardy.
At some point in your day out exploring the Garden District and all its wonders you're going to get hungry. We definitely recommend sticking to the historical venues and dining at Commander's Palace Restaurant. This restaurant has been around since the late 19th century and is well-known to have jumpstarted many famous chef's careers, like Emeril Lagasse, for one. They have delicious Creole food and it's popular with the locals, too, so you know the food is good. You should have no problem finding it as one of its quirks is its big, baby blue building.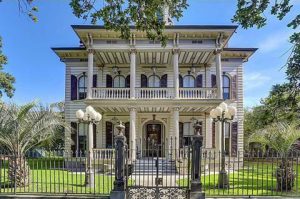 After you grab a quick bite to eat you'll want to continue your trek around the Garden District. Take a nice leisurely stroll along Coliseum Street. This is a popular walkway since it includes many landmarks like the house featured in The Curious Case Of Benjamin Button and Sandra Bullock's mansion. John Goodman, a popular celebrity that can be seen out and about in the Crescent City, also lives in this area.
You can also view the childhood home Anne Rice (the famed author of the Interview With The Vampire Book Series, and many other novels) on the corner of First Street and Chestnut Street. It's the epitome of classical creepy and luxury. This has been turned into a bed and breakfast, so if you're a fan of the author and looking for a little inspiration, you can even stay the night here. For football fans, make sure to take a few minutes to check out the Manning Residence. It's the home of Archie Manning, father of Eli and Peyton Manning. This is located on First Street.
If you're lucky you may even get a glimpse of one of the family members. There are many other buildings and mansions to see along the way, like Nicholas Cage's former mansion that he lost to foreclosure.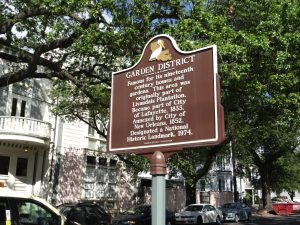 Once you taken in enough of the historical sites in the Garden District you may be ready to let your hair down and enjoy some drinks or shopping. There's plenty of that here, too. Le Bon Temps Roule is a great local hot spot that offers amazingly strong drinks for cheap and live music to jam to.
For shopping you'll want to head to Magazine Street. It's literally about 6 miles of shops available for your perusing. There you can find boutiques with one of a kind clothing, antique shops (you may be surprised with some of the items you can find for sale here) and amazing art galleries.
As you can see the Garden District is not lacking in things to do and places to see. It's amazing just how many activities and attractions you can find to enjoy in this area. One thing is for sure, you will not have a bored moment here. Another thing we do recommend for your trip to New Orleans is to find a resource online for a self-guided tour.
This will help to enhance your overall experience and may even allow you to find some of the more hidden gems that the bigger guided tour companies may overlook or bypass altogether. There are many websites online you can bookmark on your mobile device and some that even offer printable maps that you can take with you. You might even be able to find some that offer extra fun facts and trivia about the points of interest you'll be seeing.
You will also want to plan your trip according to what you want to do while you're there. For example, if you want to see the Mardi Gras parade you will have to plan your trip for when Mardi Gras is taking place. Luckily, even if you missed Mardi Gras, New Orleans always seems to have something going on, so make sure to also check out the Garden District's calendar of events and see if there's any specific event or activity you'd like to see while you're visiting. Planning your trip ahead of your arrival will help ensure that you make the most of your visit to the Crescent City.