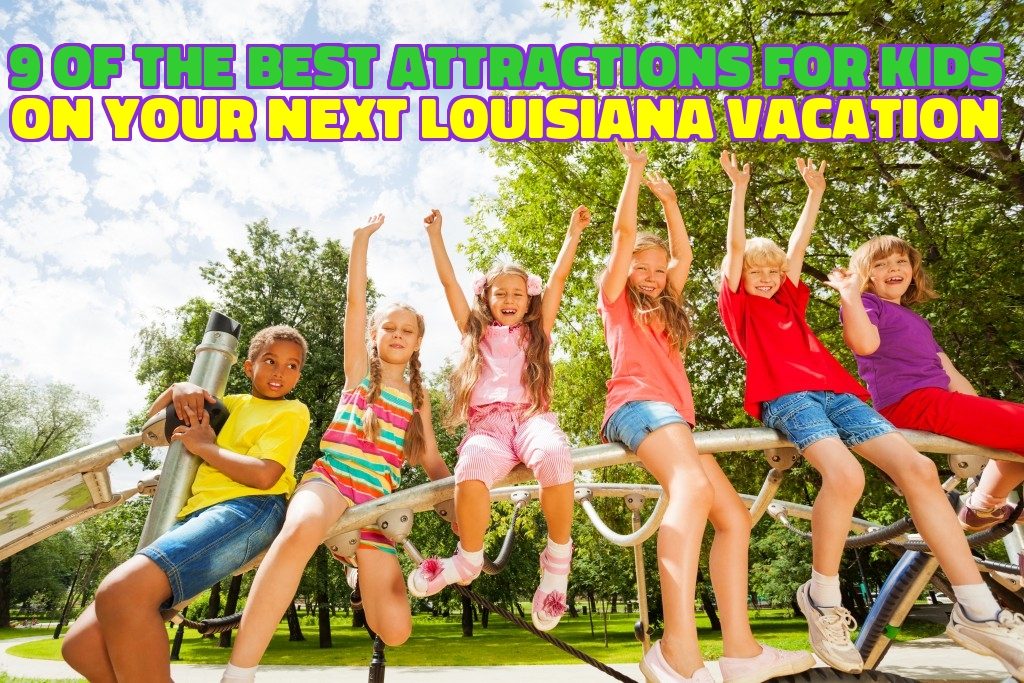 Traveling with children can be a fun experience, but traveling to Louisiana with kids can be amazing. Louisiana has many magical sites to check out and explore and a lot of history to see and take in. Children especially will be awestruck by all of the architecture and wildlife they will see in Louisiana. Listed below are a few of the top attractions to visit on your next family vacation to New Orleans and Louisiana in general.
1.) Steamboat Natchez:
This is the only true steamboat located in New Orleans, and while it may not be easy on the wallet, it's totally worth it. You'll feel like you're in a Mark Twain novel. Kids under six are free, kids 6 to 12 are around $30, and adults around $70. There is a dinner option, which obviously cost a little bit more, but it will create an unforgettable experience for you and your family. The cruise itself is about two hours and you'll definitely want to pack a light jacket as it does tend to get a bit chilly out on the river. If you do decide to go with the dinner option, you can expect buffet style and plenty of entertainment including live jazz music. Either way, it's one of the most scenic things to do in Louisiana with kids, and it keeps them entertained the whole time which is a balance that's usually hard to find.
2.) Blaine Kern's Mardi Gras World:
Mardi Gras may not be the optimal place to bring children, nor is it celebrated all the time throughout the year, but you can visit Blaine Kern's Mardi Gras World, which is one of the most popular Louisiana attractions for families where you can view various floats and try on lots of hilarious costumes. They do offer a tour of the facility every day, which takes just over an hour, where the tour guides explain the history of Mardi Gras and various the traditions held by the dedicated Mardi Gras performers.
3.) Audubon Insectarium:
It's no secret that many children are fascinated by creepy crawlies. If you're lucky enough to have a little one that loves, or is at least a little interested in, bugs, you'll be happy to know that the Audubon Insectarium is the largest museum focused on insects and bugs in the entire country. They have an amazing butterfly garden, a swamp exhibit that shows various insects found locally, and there's even a station that allow the children to touch some of them. Tickets cost around $25 for adults and $10 for children, 2 and under are free. It can be a chart-topper of things to do in Louisiana with family if you and your family are into these sort of attractions, and may be more beneficial to invest in an Audubon Experience Ticket, which also includes entrance into a few of the other local attractions.
4.) Swamp Tours:
This is a must if you're visiting New Orleans. The swamp tour will include an airboat ride through the swamp where you're sure to see a wide variety of wildlife, including alligators, turtles, birds, snakes, and more. This is not recommended for children under five, and actually many of the swamp tour companies will not allow kids under five. There are many tour companies that offer swamp tours, so make sure to do your research and best for your party.
5.) Acadian Village:
If you've never heard of a live museum, you're in for a big shock. A live Museum is an attraction where you basically step into a certain time in history and all of the actors in the museum are dressed to play the part. They must stay in character and you'll be able to feel as if you were really in a different time period. This specific attraction will put you in the 19th century and allow you to see how a normal Cajun bayou community used to live their life. Your kids will be shocked and amazed to see that there's not even one cell phone. There are a few different family friendly living museums in Louisiana, you may want to do a quick search on the various types and see which one you and your family would enjoy the most. One of the other more popular places to visit in Louisiana is Vermilionville.
6.) Cajun Food Tours:
If you happen to be traveling to Louisiana with a teenager with a big appetite this is the attraction for you. This is a 3 ½ hour tour that'll take you to at least six different stops for you to try the best Cajun and Creole fare in town. The tour guides will also explain lots about the history and culture of the various dishes and places you visit. All meals are included with the cost of your ticket, but you will have to call to make a reservation.
7.) Louisiana Children's Museum:
If your children are full of energy and enjoy arts and crafts and learning new things, you'll want to make a stop at the Louisiana Children's Museum. Admission is under $10 per person, and there are many different stations and exhibits that each teach about a different topic to your children. The museum also hosts a wide variety of activities throughout the month, so make sure to check that out to see if they're doing anything special during the time that you're visiting.
8.) Dixie Landin' and Blue Bayou Waterpark:
If you and your family are more into the thrill rides and attractions, you'll definitely want to make a stop here. This theme Park is 80 acres and features some of the best rides in all of Louisiana. There's an 8-story slide that'll have your kids zipping at incredible speeds and almost 30 other rides for them to enjoy including four roller coasters. There's a section for younger children as well with Kitty rides, and also plenty of on-site concession stands that'll keep you and your family from getting hangry.
9.) Visit Storyland:
This is one of the best attractions we can recommend for families traveling with toddlers to Louisiana. Storyland is basically an outdoor playground that features many of the characters from your favorite storybooks. For example your little princess can sit and Cinderella's pumpkin carriage and you all can meet Snow White and her seven dwarfs. This attraction is likely one of the most kid friendly things to do in Louisiana and will definitely provide you with many photo opportunities, so make sure your phone is charged and you have plenty of space on your memory card.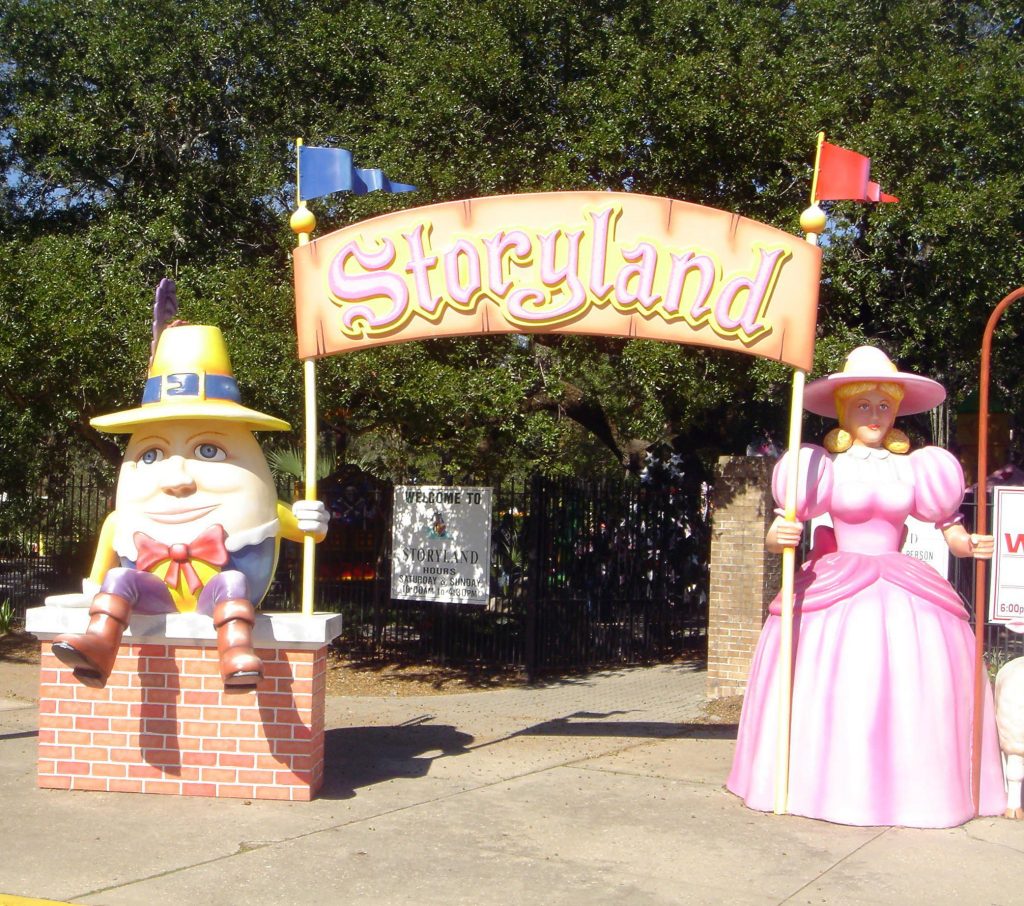 As you can see Louisiana is the perfect place for a family vacation. There are plenty of attractions and activities to keep you and your loved ones busy and have some wholesome family fun in Louisiana. While traveling with young children can be a bit tedious sometimes, you'll have to agree that seeing a smile on their face makes it all worthwhile. We always recommend that you do your research prior to arriving to your destination as this will help ensure everything goes smoothly and that your expectations are set.