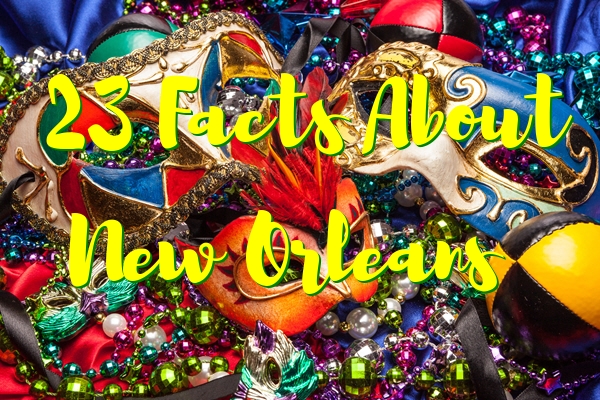 It's a good idea when traveling that you do a bit of research on the place for your visiting prior to arriving. New Orleans is one of those cities that offer quite a bit of history, as well as many quirky facts about the city. Here are a bunch of fun facts that'll blow your mind about the Big Easy.
1.) The largest municipal park in the United States is located in New Orleans and it's called City Park. It was common, back in the 1800s, for men to meet in this park and duel with guns and swords. Nowadays it's a popular spot for couples to host weddings.
2.) When you're walking around New Orleans you may notice spikes on top of the poles at various homes. These used to be a way to protect the French aristocrats whose daughters from suitors they were not interested in. Nowadays they just keep the Mardi Gras goers away. Others that are not fortunate enough to have these gates and pointy poles, as well as hotels, often put grease or oil on their balcony support rails, especially during Mardi Gras, so that the inebriated partygoers cannot climb up.
3.) Dental floss was created by a New Orleans dentist named Levi Spear Parmly.
4.) You can see the original death mask of Napoleon Bonaparte in the Louisiana State Museum is located in New Orleans.
5.) In the French Quarter there is a popular restaurant called Antoine's. It was established in 1840 and is the oldest continuously operated restaurant located in Louisiana.
6.) New Orleans is the birthplace of voodoo and has also been listed as one of the top most haunted cities in the United States. If you visit, you'll see tourist attractions and tours to visit the local haunted mansions and graveyards in the area. You will need to be prepared for a good ghost story if you decide to take one of the tours. The LeLaurie Mansion is said to be the most haunted of all. It is also a fact that voodoo queen Marie Laveau's gravesite receives even more visitors than Elvis Presley's grave.
7.) If you're a fan of happy hour or mixed drinks, you can thank New Orleans. Supposedly their home to America's first mixed drink, the sazerac, which is also the official cocktail for the city of New Orleans. Another fun fact, the creator of this drink was Antoine Peychard in a bar inside the French Quarter.
8.) Many may not be aware but for the most of the history of Mardi Gras, it has been illegal to ride on a float in the festival without donning a mask.
9.) There is a monument of Andrew Jackson located in Jackson Square. This is the first time a statue of a horse showed the horse with more than one hoof off its base.
10.) There are no counties inside of Louisiana, instead the state is separated into subdivisions also known as parishes. This is the only state in the United States that goes by this rule.
11.) Bourbon Street, despite popular thought, was named after a dynasty in France, not the actual whiskey.
12.) It's hard to believe, but the New Orleans has actually been under the rule of three different countries. It was first ruled by the French, then the Spanish, then the French again, and was finally sold to United States.
13.) If you've ever visited the Mercedes-Benz Superdome in New Orleans, you may have noticed the fact that every seat is a different color than the one right next to it. This is a design that allows the optical illusion that the stadium is full even when it's not.
14.) Located in Jackson Square, the oldest and longest continuously run cathedral located in the United States, the St. Louis Cathedral can be found.
15.) Two common names for New Orleans are Crescent City and The Big Easy.
16.) Don't let the name French Quarter fool you, most of the architecture was inspired by the Spaniards.
17.) As far as the United States is concerned, opera originated in New Orleans. The first performance was in 1796 and was produced by Ernest Gretry. It was a production called "Sylvain".
18.) Due to New Orleans being built mainly on swamp land most of the gravesites are built in above ground tombs.
19.) The first pharmacist in America was Louis Joseph Dufilho, Jr., and his original shop is still there in New Orleans on Chartres Street, however now it is a pharmacy museum.
20.) It is not uncommon for families to host jazz funerals when sending a relative or friend off. This is a common event and has the back story of helping the dead find their way into heaven as well as celebrating their last bit of time on earth.
21.) Many are unaware, but Mardi Gras did not originate in New Orleans, it actually started out in Mobile, Alabama way back in 1703. It has, however, been celebrated in New Orleans since the 1730s, however the first Mardi Gras parade with floats did not happen until February 1857.
22.) While many may associate the word "muggle" as a non-magical person, it was actually originally a term used for marijuana back in the 1920s in New Orleans.
23.) New Orleans offers over 120 festivals throughout the year, meaning whenever you decide to visit, you'll more than likely be able to participate in a festival or two.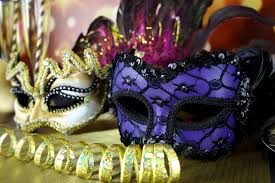 These are just a few of the fun factoids you can read before your trip to New Orleans. As you can see Louisiana played a big part in the development of the United States. All the way from creating dental floss, to performing operas, and even bringing pharmaceuticals to America there are many things that originated there, that otherwise may have never existed in the United States.
If you're planning a road trip to New Orleans you may want to print this sheet out and pack it with you, this will provide you with a bit of fun on the way for you and your family. Any fact mentioned here can be expanded upon with a simple search on the Internet. Never stop exploring.