The Louisiana Bistro is an easy going, informal restaurant featuring creatively fresh adaptations of New Orleans Creole cuisine.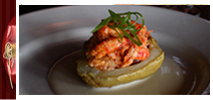 Here you will find the best contemporary Creole Cuisine that the New Orleans French Quarter has to offer!
We feature intimate dining off the beaten path just one block from the world famous Bourbon Street at the corner of Dauphine and Conti.
Chef Martinez and his attentive staff give you a taste of local hospitality with bold New Orleans' flavors and Chef's creative touches in a cozy candle lit atmosphere. The wine selection is top of the line with your own personal tasting expert regularly visiting tableside.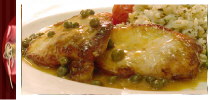 An innovative yet classic menu evolves nightly, incorporating traditional delights such as duck, crab, shrimp, chicken and pork in creative and unique recipes. The eclectic menu explores new dimensions of the Creole palate, culminating with Chef Martinez's Feed Me Now – a literal must try!
The a' la minute freestyle tasting features fresh Louisiana meats, fantastic local seafood, seasonal fruits and vegetables. It gives Chef the opportunity to showcase his latest ideas and innovations! He even stops by your table to present his creations. A real home style touch that'll make ya say Hot-dang crawdaddy!